Mannino Electric has been serving the Hudson valley for 44 years. Our client list includes everything from residential and medical to retail industries, traffic control systems, site lighting and photovoltaic. We are fully licensed, bonded and insured.
Commercial and Residential Services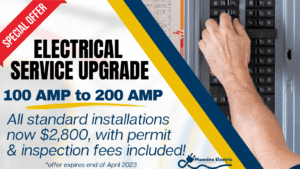 *offer expires end of April 2023
Mannino Electric can help you from the pre planning stage of any type of residential project - from new construction to remodels. With our highly trained sales and service team, we can utilize your time and money in the most cost effective way.
Mannino Electric can facilitate any type of home repair or remodel project. From kitchen remodels to additions, we offer quality services at very affordable prices. We can provide you with an upfront written estimate for your project.
From the ground up construction of a thousand square feet building to a multiple story commercial building, Mannino Electric has the ability to satisfy any requirement -- from equipment to manpower. Whether it is a brand new construction or a build out of an existing building, we make sure the job gets completed in the most cost effective way.
Mannino Electric can perform lighting retrofits on any type of building whether it is repairing or replacing bulbs/lamps and ballasts inside or outside on the security and site lighting. We also can convert your current bulbs/lamps to energy efficient LED lighting.

Mannino Electric offers total rewiring to code and/or as instructed within code. It is most cost effective when walls or ceilings are open.
Mannino Electric installs all new wiring, gear and underground service conduit.
New and existing locations hook ups are available. Underground service installs are also available.
Mannino Electric specializes in 100 amp up to 400 amp residential service upgrades. We offer underground and overhead service change-out/conversions from fuses to circuit breakers.

Mannino Electric provides visual inspections of buildings and homes, which includes interior, exterior, detached garages, accessible attics and breaker/fuse panel boxes.
When necessary to expand additional breakers on an accommodating panel and there is a lack of breaker space and/or on old/burned out panel buss.

Mannino Electric stocked bucket truck is ready and prepared.

Mannino Electric collaborates with architects and general contractors from design through installation to provide value engineering, quality workmanship and professional, timely communication to ensure your commercial or industrial facility is wired for savings.
Mannino Electric offers design to build services for large and small new construction and remodeling projects. We also offer ongoing maintenance and support services for all types of industrial and commercial facilities. These include medical and healthcare, retail and professional office space, manufacturing plants, warehouses, restaurants and other entertainment venues, spas, marinas and more.
Mannino Electric is proficient in installing back-up generators, surge protectors and uninterrupted power supply systems to keep you up and running even in the worst conditions.